Ectoplasm


| | |
| --- | --- |
| | |
| Durability | N/A |
| Renewable | No |
| Stackable | Yes (64) |
| First Appearance | Release 1.3 |
| Data Value | 7779 |
Ectoplasm (or Endoplasm, before HEE 1.6) is a strange looking material, which can be randomly acquired by breaking the Spooky Log with a face, with Ghost Amulet anywhere in the inventory. That makes it one of the hardest items to get in the mod.
The Endoplasm is used to craft mystical themed items, namely the Corporeal Mirage Orb and Soul Charm.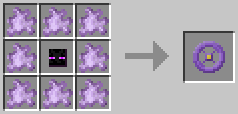 The name Endoplasm is based on Ectoplasm from End
Ectoplasm is the only item with animated texture
Ad blocker interference detected!
Wikia is a free-to-use site that makes money from advertising. We have a modified experience for viewers using ad blockers

Wikia is not accessible if you've made further modifications. Remove the custom ad blocker rule(s) and the page will load as expected.